New at The Seton Centre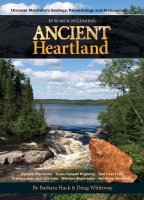 August 8, 2015. New Book
In Search of Canada's Heartland By: Barbara Huck and Doug Whiteway
Discover Manitoba's Geology, Paleontology, and Archaeology. This book describes how Manitoba used to be like in ancient times as well as how it looks like today. It book also talks about Manitoba's provincial parks and why they are where they are. We are happy that we are lucky enough to have this book in our gift shop.
$29.95
July 3, 2015. New Title in the Gift Shop!
Manitoba Wild By: Bill Stilwell
Another new book available in our gift shop. It talks about Manitoba's wildlife and plants while it also invites you  to discover sixty secret sites in Manitoba and how to find them.
$18.99

June 19, 2012: Gift Shop Addition
Wild West: Nature Living on the Edge by Heather Beattie & Barbara Huck
Another new title in the gift shop! Features more than 50 endangered species and ecosystems from all over North America!
$24.95
(Psst… It has a section on the Carberry skinks!)
June 18, 2012: New Title
The Land Where the Sky Begins: North America's Endangered Tall Grass Prairie and Aspen Parkland by Dennis Fast & Barbara Huck
New book available from our gift shop! A portion of the proceeds supports the work of The Nature Conservancy.
$29.95
August 19, 2011 – New Book:
The Trail of the Sandhill Stag by Ernest Thompson Seton
We are happy to announce a new addition to the books available from our giftshop. The Trail of the Sandhill Stag is the story of a young man who is determined to hunt white-tailed deer – only to discover they are more amazing than he could ever have imagined. Based on a real Seton adventure in the Carberry area, this book is a must-have for Seton lovers! Copies can be ordered for $19.95 each using the information listed on the Contact Us page.